DESCRIPTION
A GENERAL PICTURE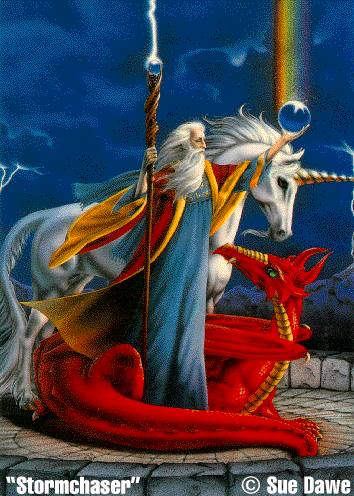 NAMES
Unicorn (English)
Einhorn (German)
Licorne (French)
Unicornus (Latin)
Monoceros (Greek)
Alicorno (Italian)
AGE
More than 5000 years (first documents)
HOME
Mainly in Europe, variations can be found in Middle- and East-Asia.
APPEARANCE
Looks somewhat like a white horse with a twisted horn on its fore-head. However, some "races" have cloved hooves, just like an antelope or deer, an a lion-like tail. Furthermore, the existence of creatures with the beard of a goat, or even with a whole lion mane have been reported.
The black unicorn is less famous than the white one. Those have black fur, and their horns are not white, silver or golden, but dark red or black.
The Asian unicorn resembles more a dragon than a horse, although it does have a mane and cloved hooves as well.
Beside those main types, there although exist other "versions" like the yale (Indian) or the shadhahvar (Persian)