CLASSIFYING
DRAGONS CAN BE CLASSIFIED INTO THREE CATEOGARIES--THE GOOD, THE BAD & THE EVIL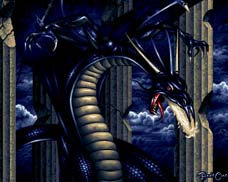 Classical Dragons
The classical western dragon extensively depicted in heraldry is the ferocious fire breathing, reptalian nemesis of countless heros from mythological and medieval times. This monstrous beast was encased in an impenetrable armor of scintillanting scales and borne upon four powerful limbs with talon tipped feet. It wielded a long sweeping tail, terminating in an arrow-headed sting; and often, but not invariably, sported a pair of huge, batlike wings

Sky Dragons
During their evelution, some serpentine dragons have forfeited terrestrial mastery or aquatic domination in favor of aerial supremacy, spending much of their time drifting, soaring, or actively propelling themselves with wondrous wingbeats, often far above the land and sea, amid the vast cloud-dappled kingdom of the sky.

Neo-Dragons
The heterongeneous assemblage of monsters known as neo-dragons may not be true dragons in the strictest zoo-mythological sense, but as their tempestuous confrontaions with humans down the ages have demonstrated, such pretenders as the basilisk, hydra, peluda, and other imiators are as dramatically dragonesque in behavior and appearance as any of their bona-fide brethren.

Semi-Dragons
Lindorms and wyverns fall somewhere between dragons and serpents. The two-legged, wingless lindorms have greather affinities with serpents than with the classical dragons, while wyverns, which possess not only a pair of legs but also a pair of wings, are closer to the classical dragons.