WHAT TO DO ON SEEING ONE
THEY APPEAR AND GO JUST LIKE THE WIND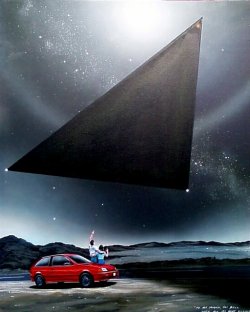 1)Observe Carefully - try and see as much detail as you can about the object(s).
2)If you have a camera, take pictures.
3)Try and remember what speeds and type of film you're using.
4) If you don't have a camera, try and estimate the size of the shape (in comparison, for example, to a quarter held at arms length.)
5) Make note of the time of day and the direction (and apparent speed) of flight.
6) If others are with you, enquire (politely) if they see the object, and their observations of it.
7) Write down your observations while they are still fresh in your mind.